Announcing Scholarship Winner for Superstars Writing Seminar
At the last Superstars Writing Seminar in Feb 2014 we had a crackpot idea—we put together an anthology of Purple Unicorn stories, ONE HORN TO RULE THEM ALL, with original cover art by James Artimus Owen, edited by Lisa Mangum, with stories by Todd J. McCaffrey, Jody Lynn Nye, Peter S. Beagle, and the very best entries by alumni from previous Superstars. WordFire Press published the book—and all profits went to fund a scholarship for one student to attend the next Superstars, February 5-7 2015 in Colorado Springs.
We posted entry details and opened the scholarship to submissions in November, and we received thirty applications. The intrepid hardworking scholarship committee has combed through all the essays and letters of recommendation—and they have selected the winner. CHRISTOPHER BAXTER will receive full tuition to Superstars this February in Colorado Springs.  Congratulations, Chris!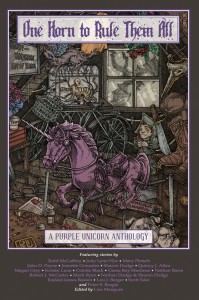 Sales of ONE HORN TO RULE THEM ALL have been very good, and as of the last accounting we were *very close* to being able to fund a second scholarship as well. After we finish calculating WordFire Press royalties  in a few weeks, we *may* even have enough to give good news to the runner up! http://superstarswriting.com
And for those of you with serious, career-minded writers in the family who still need that perfect holiday present, you can give your own in-home scholarship by signing them up.  Prices go up January 1.