Another Never-Published Frank Herbert Novel
After Frank Herbert published his brilliant first novel THE DRAGON IN THE SEA in 1956, he spent years writing manuscript after manuscript, but was unable to find a publisher.  Until finally in 1963 he wrote a ground-breaking work about a desert planet, which changed the face of science fiction forever.
His earlier works—four novels and numerous short stories—were completed and edited to his satisfaction and submitted to various publishing houses.  WordFire Press is pleased to release the third of these never-published Frank Herbert novels, the Cold War thriller, A GAME OF AUTHORS.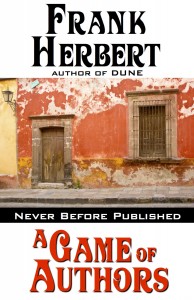 In pursuit of a scoop, American journalist Hal Garson follows up on a mysterious, desperate letter that points to the whereabouts of legendary author Antone Luac, who vanished without a trace in Mexico years ago. The celebrated writer's disappearance is an enduring mystery, and Garson senses this story will make his career. 
Despite warnings, he travels to isolated Ciudad Brockman and begins asking questions … too many questions, which place him in the crossfire of a local crime lord, a Communist insurgent group, and finally to the imprisoned writer—and his beautiful daughter—who may not want to be found.
A GAME OF AUTHORS is now available for $4.99  in all eBook formats, worldwide.  The print edition will be for sale in two weeks.
Don't miss the other two previously unpublished Frank Herbert novels released by WordFire Press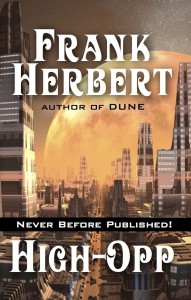 This is FRANK HERBERT's never-before published dystopian novel, written between his classics The Dragon in the Sea and Dune. EMASI! Each Man A Separate Individual! That is the rallying cry of the Seps engaged in a class war against the upper tiers of a society driven entirely by opinion polls. Those who score high, the High-Opps, are given plush apartments, comfortable jobs, every possible convenience. But those who happen to be low-opped, live crowded in Warrens, facing harsh lives and brutal conditions. Daniel Movius, Ex-Senior Liaitor, rides high in the opinion polls until he loses everything, brushed aside by a very powerful man. Low-opped and abandoned, Movius finds himself fighting for survival in the city's underworld. There, the opinion of the masses is clear: It is time for a revolution against the corrupt super-privileged. And every revolution needs a leader.
Print edition
Kindle
Kobo
Nook
All other eBook formats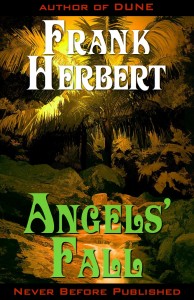 One of Frank Herbert's lost, never-before-published novels written before Dune. Angels' Fall is a gripping thriller set in the South American jungles. After a plane crash deep in the Amazon, freelance pilot Jeb Logan has to keep himself and his passengers alive in a gruelling trip downriver. Adrift in the wreckage of the plane with Jeb are a beautiful singer, her young son, and a ruthless murderer clinging to the last thread of sanity. With supplies running out and nature itself turning against them, this small desperate group struggles to survive against the jungle—and each other.
Print edition
Kindle
Kobo
Nook
All other eBook Formats