Dan Shamble in ROMANTIC TIMES
Yes, he is a "well preserved" zombie detective, and handsome in his own way.
Romantic Times just posted a terrific review of Dan Shamble #3, HAIR RAISING:
"The inventive detective series starring Dan Shamble, Zombie P.I., is back for a third outing. The story's tale of the publication of a Dan Shamble novel and a horror convention are nice touches that blur the line between reality and fiction. The "monstrous" characters — who are occasionally more human than the humans — are deftly handled with humor and pathos, while subjects as diverse as death, discrimination and assault will have readers rooting for the team at Chambeaux & Deyer Investigations."
– RT Book Reviews, 4 stars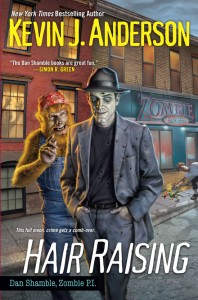 The novel comes out in May.
In the meantime, don't forget *until Monday* the first Dan Shamble book, DEATH WARMED OVER, is on special for only $1.99 in all eBook formats.