A FANTASTIC HOLIDAY SEASON
Next week is Halloween, but it's never too early to start looking ahead to the Holiday season.  I've edited a new anthology of 18 magical, imaginative, and haunting tales of the holidays, A FANTASTIC HOLIDAY SEASON, just released by WordFire Press.
Grandma gives a sweater she knitted, Dad receives a necktie he doesn't really like, the kids get toys that make a variety of noises, most of them loud, all of them annoying. What do writers give for the holiday season? They give the gift of stories that take the reader away to fantastical times or places, tales that can be blood-curdling or heart-warming, adventures that capture the heart of the season.
Stories by  Kevin J. Anderson  •  Kristine Kathryn Rusch  •  Rebecca Moesta  •  David Farland  •  Larry Correia  •  Nina Kiriki Hoffman  •  Dean Wesley Smith  •  Debra Gray De Noux & O'Neil De Noux  •  Jerry Oltion  •  Kathy Oltion  •  Kent Patterson  •  Ray Vukcevich  •  Kim Antieau.  Cover art by Myles Pinkney.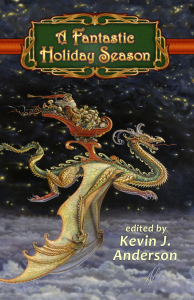 FULL CONTENTS:
Introduction: A Gift of Stories—Kevin J. Andrson
A Christmas Caroler—Kim Antieau
Jukebox Gifts—Dean Wesley Smith
Santa Claus Is Coming to Get You—Kevin J. Anderson
Foreign Exchange—Nina Kiriki Hoffman
The Wereyam—Kent Patterson
Nutball Season—Kristine Kathryn Rusch
These Halls—Kathy Oltion
My Favorite Christmas—David Farland
One Last Gift—Jerry Oltion
Popcorn for Christmas—Debra Gray De Noux & O'Neil De Noux
Christopher's Crummy Christmas—Kristine Kathryn Rusch
Dead Snow—Kent Patterson
Inquiring Minds Want to Snow—Rebecca Moesta
The Jolly Old Boyfriend—Jerry Oltion
Cold Comfort—Ray Vukcevich
LaZelle Family Christmas—Nina Kiriki Hoffman
The Christmas Noun—Larry Correia
The Ghost of Christmas Always—Kevin J. Anderson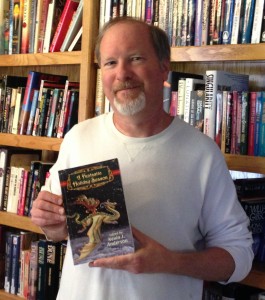 The book is available for $4.99 in all eBook formats and $15.99 in trade paperback print.
Trade paperback (or order from your favorite bookstore)
Kindle
Kobo
Nook
all other eBook formats
The book was just released yesterday, and we were delighted to see that it shot up to the #4 amazon bestseller slot in its category!  Thanks everybody.