Getting ready for SUPERSTARS WRITING SEMINAR

After I finished my massive edit of the 800+ page manuscript of THE DARK BETWEEN THE STARS, I celebrated by going to the dentist to get a crown put on a tooth (yippee) and after that, I really celebrated by going to see IRON MAN 3. (That was much more fun.)  Then the following day, Thursday, Rebecca and I drove off into the mountains to Glenwood Springs, where we spent the afternoon soaking in the mineral hot springs.  It's a gorgeous mountain resort, great hot springs (this is where Doc Holliday went to spend his last days).  During the three-hour drive each way, we brainstormed a novel I'm plotting, but we spent most of the time writing down lists and preparing all the details for next week's Superstars Writing Seminar in Colorado Springs.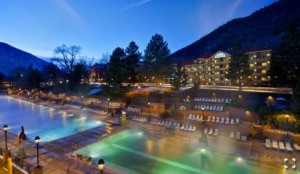 Glenwood Springs: A good place to brainstorm Superstars details!
We've got boxes piled up for delivery to the hotel, folders, badges, lanyards, tote bags, clipboards, pens, goodies from our sponsors Scrivener, Kobo, and Olympus, finalized the panel schedule, gathered the bios, worked with the hotel on the layout and setup of the Superstars room, coordinated all the flight times of the speakers and arranged for transport, and there will probably be lots more details to wrap up in the next two days.
Here is the full final schedule of lectures.
Tuesday 5/14/13
8:00 am Intro, Seminar Overview, Speaker Introductions
8:30 The Popcorn Theory of Success
Kevin J. Anderson
9:30 It's Business: How Publishing Economics Works
Eric Flint
10:30 Windup & the Pitch (pitches, queries, proposals, treatments)
Tracy Hickman, James A. Owen, Lisa Mangum, Kevin J. Anderson
11:15 A Really Cool Announcement for Superstars Attendees & Alumni
11:30 Lunch
1:00 pm Get 'em While They're Young: Young Adult
James A. Owen, Tracy Hickman, Rebecca Moesta
2:00 The Romance Industry: If I Knew Then What I Know Now
Joan Johnston
3:00 "Dirty Secrets" of Being a Professional Author
Kevin J. Anderson, Rebecca Moesta
4:00 A Day in the Life at a Major Publishing House
Jim Minz
4:45–5:30 Open Q&A Session
Joan, Tracy, James, Rebecca
6:00–8:00 pm Welcome Mixer/Reception
Wednesday 5/15/13
8:30 am Ebooks & Indy Publishing
Mark Leslie Lefebvre
9:30 Do It Yourself: Kindle, Kobo, PubIt, PoD, Kickstarter
Mark Leslie Lefebvre, Tracy Hickman, Rebecca Moesta, James A. Owen, Moses Siregar
10:30 Different Paths: Major House, Indy Writer, or Hybrid?
Mark Leslie Lefebvre, Jim Minz, Kevin J. Anderson, Eric Flint
Noon Lunch
1:30 pm Getting Noticed: Self-Promotion for Authors—Spiking Your Sales
Mark Leslie Lefebvre, Peter Wacks, Jim Minz, Joan Johnston, Lisa Mangum
2:30 Cracking the Code: What Are Editors Really Looking For?
Jim Minz, Lisa Mangum, Tracy Hickman, Eric Flint
3:30 Two Heads Are Better Than One: Collaborating
Kevin J. Anderson, Eric Flint, Tracy Hickman, Rebecca Moesta
4:30 Drawing out the Dragons
James A. Owen
5:15–6:00 Open Q&A Session
Kevin, Mark, Jim, Eric
7:00 pm VIP Dinner: MacKenzie's Chop House
Thursday 5/16/13
8:00 am Publishing Myths
Rebecca Moesta
8:30 am A Brief Primer on Copyright, Trademark & Intellectual Property
M. Scott Boone
9:00 Future Tense
Tracy Hickman
10:00 Building Your Network
Rebecca Moesta, James A. Owen, Tracy Hickman, Lisa Mangum
11:00 Dissecting a Contract
Eric Flint
Noon    Lunch
1:30 pm Agents: The "A" Word
Tracy Hickman, James A. Owen, Joan Johnston
2:30 Eleven Tips to Increase Your Writing Productivity
Kevin J. Anderson
3:30 Being a Writer & a Real Person at the Same Time
All
4:30 Open Q&A Session
All