Neil Peart reads audiobook of CLOCKWORK ANGELS: The Novel
June is audiobook month—so it's appropriate to make the posting and announcement here.
Shortly after we sold the hardcover novel of Clockwork Angels to ECW Press (for a lavish full-color edition with illustrations by Hugh Syme), I was contacted by the editor at Brilliance Audio, who had produced the unabridged audios of many of my novels.  Of course we wanted an audiobook edition of CLOCKWORK ANGELS: The Novel, and we knew the fans would want it as well (Rush fans being audio-oriented, and all).
Even better, Neil suggested that he would like to read the audio himself.
With the novel—and the audiobook—due to be released at the beginning of September, to coincide with the launch of Rush's Clockwork Angels tour, we had no time to lose. Before Neil could read the audio, we had to get all the editing finished on the prose, all the corrections made, all the last-minute fine-tuning done. And we had to wrap up before Rush began their intense rehearsals for the tour.
I received the final galley pages of the novel to proofread, while Neil went into the studio to record the audiobook, and I tried to stay one day ahead of him so I could send in corrections and sentence changes before he recorded the words.  I received email reports from him every day, telling me Our Hero's progress across the steampunk landscapes of Albion, Poseidon City, Atlantis, and the Seven Cities, his encounters with the Watchmaker, the Anarchist, the Wreckers…all while I was up in Seattle with Brian Herbert brainstorming the intricate plot for MENTATS OF DUNE. My head was in two universes (not counting the real one) but every night I took a few hours before bed to proofread as much as possible, send in more corrections…and we finally got it done.
I can't wait to hear it myself, but since I've read the novel six times in the past three months, I think I'll let the imagination-dust settle for a little bit!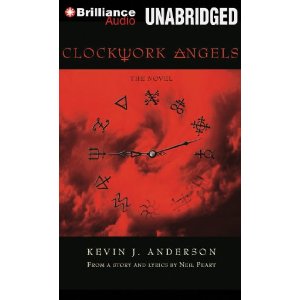 Not to be outdone…well, scratch that—Neil has outdone it many times over…I'll be going into the studio myself next week with audiobook producer and narrator Gigi Shane to record the audio for my hard-SF novella TAU CETI: Tortoise and Hare.  Since the story is two intertwined story lines, with a male and a female character, we will each record our separate parts.  I'll post here when it's available.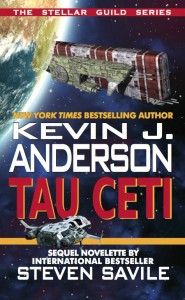 And, since June IS Audiobook Month, why not try listening to one of my novels? I've got a wide selection available for download at audible.com.  Check out  the full Kevin J. Anderson listing.