Our first titles up on the Baen eBook Library
WordFire Press has joined forced with the extremely popular and innovative Baen eBook Library, and our first four titles have just been featured in their May newsletter.

First up is FIVE BY FIVE: Five military SF novellas by five military SF writers (Kevin J. Anderson, Michael A. Stackpole, Aaron Allston, B.V. Larson, and Loren L. Coleman). It's a war out there. In these pulse-pounding tales, the best (or worst) soldiers in the galaxy are pitted against powerful aliens on distant battlefields. Never before published stories about monsters, deadly combat tech, treachery, and honor.  (Note, we are working on the second volume of FIVE BY FIVE right now, with all new military SF by some of the top authors in the field.)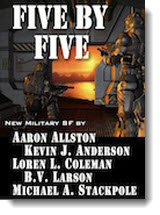 Next, there's ALTERNITECH: A company sends prospectors into alternate but similar timelines, where tiny differences yield significant changes: a world where the Beatles never broke up, or where Lee Harvey Oswald wasn't gunned down after the Kennedy assassination, where an accidental medical breakthrough offers the cure to a certain disease. Alternitech finds those differences—and profits from them, a sequence of interconnected tales of parallel universes.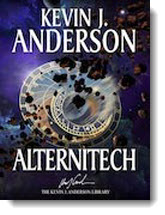 BLINDFOLD, On the colony planet Atlas, an innocent man trusts a young Truthsayer to defend him from a murder charge . . . until, impossibly, she convicts him. It seems the famous Truthsayer drug Veritas has been diluted and someone in the colony is selling smuggled telepathy. Justice isn't blind—it's been blinded! And now unless the crime can be solved the old fashioned way, Atlas is doomed. (Fans of my Saga of Seven Suns will especially like this one!)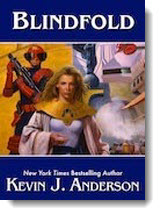 CLIMBING OLYMPUS: The Adins: prisoners, exiles, and pawns of a corrupt government. Now surgically transformed to survive on the surface of Mars, they are still pawns, working for human colonists, not themselves. But Adin leader Boris Tiban has a new plan: to save his people and deliver them to freedom.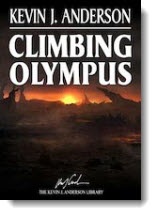 RESURRECTION, INC. In the future, a microprocessor brain, synthetic heart, artificial blood, and a fresh corpse can return as a Servant for anyone with the price. But now one Servant murdered before his time begins to remember who killed him—and what Resurrection, Inc. has in mind for the human race.  My first novel, inspired by the Rush album Grace Under Pressure.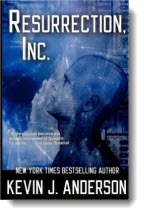 The four books by me are together as a special bundle available only through the Baen eBook Library for $12.99.  Each title is also available individually for $4.99 or less.  Click here for the Baen eBook Library.