To the Stars: Bundles Raise Nearly $100K for Challenger Center
Several times a year, you see me posting (yes, even haranguing you) about a new book bundle I'm part of—whether it's thrillers, monsters, adventure SF, epic fantasy, writing tools, political thrillers.  You name your own price and get a big grab bag of books.
But the really cool thing about the bundles is that a portion of the proceeds goes directly to a selected charity or non-profit. Most of the time, I designate the Challenger Learning Centers for Space Science Education. Founded by June Scobee Rodgers, whose husband was Commander Dick Scobee of the final flight of the Challenger, the Challenger Centers promote interest in science and space, raising a new generation of forward-thinkers and problem solvers for humanity's future.  I am a Board Member of Challenger, and I fully support their mission.
So far, my book bundles—you know, the ones I always pester you to buy—have raised nearly $100,000 for Challenger. I think that's pretty darn impressive.  If you've picked up one or more of the bundles, pat yourself on the back.
And if you're interested, my Pulse Pounders Thriller bundle is running right now at storybundle.com   Only about a week remaining—get eleven books that will keep you at the edge of your seat, and also help out the Challenger Centers.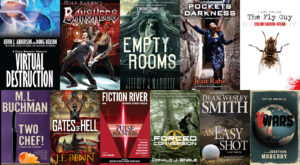 http://kjablog.com/wp-content/uploads/2016/10/All-Covers-Large-768x422.jpg 768w, http://kjablog.com/wp-content/uploads/2016/10/All-Covers-Large-1024x563.jpg 1024w, http://kjablog.com/wp-content/uploads/2016/10/All-Covers-Large.jpg 1600w" sizes="(max-width: 300px) 100vw, 300px" />