Superstars Writing Seminar: Early Bird Prices Go up Oct 15

We are busy preparing for the next Superstars Writing Seminar, which will be held in Colorado Springs, February 6–8 2014.  This is our fifth year holding Superstars, and each seems to get better than the last.
Our regular instructors are Brandon Sanderson, David Farland, Eric Flint, James Artimus Owen, Rebecca Moesta, and Kevin J. Anderson, all of whom will be teaching in 2014.  This time we will also have guest instructors Diana Gill, Senior Editor of HarperCollins, Mark LeFebvre, of Kobo, Lisa Mangum, editor of Shadow Mountain Publishing, and others still to be announced.
Early Bird prices are due to go up on October 15, so if you're a writer serious about building your career and expanding your knowledge of the business, consider going—but don't wait too long.  For more details, please see the Superstars website.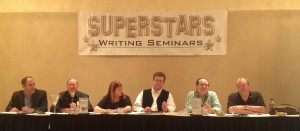 Here are some testimonials from our recent students:
If you want to get the latest, most up-to-date info on the changing parameters of publishing, be here!  If you want to avoid mistakes that could haunt you for two decades, be here!—Don Hodge
Many conferences are writer-central and are very informative and inspiring. But Superstars brought that to the next level. Thank you for stretching the knowledge to the "secrets" that no one else shares.—Victoria D. Morris
Superstars was a great experience, not only from a standpoint of learning the business, but to get encouragement from those who have been through this themselves as they wanted to be published. It is also a great opportunity to meet other aspiring writers and network with them.—Jared Anjewierden
The Superstars Writing Seminar is the single best investment an author can make to improve his or her career. I've learned more information before the first lunch break than I could have dredged up from the first 10,000 pages of a Google search over six months.—Guy Anthony De Marco
I have never been to a better place to meet sincere professionals in the field, both established and up-and-coming. The contacts I made were invaluable.—Sam Knight
Superstars is the best investment for authors who take their business seriously—Eric Edstrom
I have attended the Superstars Writing Seminar three times and it keeps getting better and better. If you want to know how to be successful in a changing market, sign up for the seminar now. You won't be disappointed.—Melissa Douthit
There are some aspects of writing that can't be learned from online blogs, convention panels, and writers' groups. Some aspects of writing, especially the business of writing, can either be learned the hard way, or you can attend Superstars and be tutored by the masters. This is my third year attending, and I believe I've gained more this year than I have in year's past. It's a class that is more valuable each and every time you attend. I couldn't recommend it enough.—Colette Black Vernon
The investment I made in attending Superstars 2012, I earned back in six months!—Marguerite Mullaney
I quite simply could not recommend Superstars enough. It sounds like an exaggeration, but this seminar has substantially affected my life—by getting my writing goals and dreams back on track. It astounds me how personable and accessible the instructors are. As for the other attendees, over the years they have become some of my closest friends. Walking into a Superstars seminar fills me with sentiment and nostalgia. In a professional sense, these people are like family to me. I can't imagine anyone ever feeling regret over attending Superstars. It's a no-brainer.—Evan Braun
I attended last year and it was wonderful. I learned so much. I was excited to come again this year, but I didn't realize just how much it would feel like coming home. The knowledge given by our awesome presenters is invaluable, but the relationships I've gained and developed, the feelings I Have while surrounded by my tribe…I don't have the words. Thank you so much for enriching my life in ways I never dreamed of.  (Yeah, I just ended my comment with "of.")—Heidi Wilde
Being in the marketing world, I thought I knew a fair amount about how to do the whole "book marketing thing."  What I learned is that I had been making a lot of assumptions and creating a career plan based on a publishing model that no longer exists. The publishing industry has changed and is constantly shifting; so should my strategies for achieving my ultimate goal to be a working writer.—Kristin Luna
Superstars is a treasure trove of indispensable writing advice. Nowhere will you get more candid advice, all packed into a neat three-day package. The only thing more useful than going once? Going multiple times.—David Carani.