Tales from the Trails
Do you have your special calendar for 2015 yet?  Do you have your KEVIN J. ANDERSON calendar yet?
Many of you have read my blogs about my epic hikes and mountain climbs, and I've posted countless photos of the beautiful places I explore in the wilderness. Each year I do a very special limited calendar with my brother-in-law (and frequent hiking partner) T. Duren Jones. TALES FROM THE TRAILS, featuring some of our gorgeous photos from our epic hikes as well as anecdotes about our trail adventures (or misadventures). We've just received the 2015 TALES FROM THE TRAILS calendar—probably our most beautiful one yet.
We do these calendars as special holiday gifts for our editors, publishers, and industry professionals, but we always keep a small supply to make available to fans. If you're interested in having one of these limited calendars, the cost is $20 plus $5 shipping (in US, more for international).  At the link below.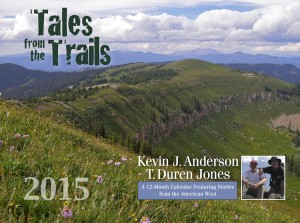 Last year, Tim also wrote an entire book of wilderness experiences, TALES FROM THE TRAILS, with many stories featuring our escapades as well as other hikes with his family. I wrote the introduction, and WordFire Press published the trade paperback and eBook.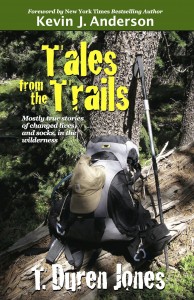 That book is available in all eBook formats for $5 or in trade paperback for $15.  As a special holiday gift for all my readers, you can get the book  TALES FROM THE TRAILS for only an additional $5 (save ten bucks!)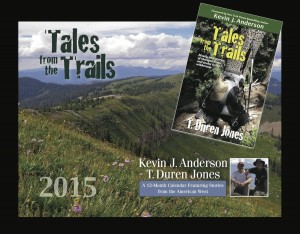 Order Calendar and Tales from the Trails Bundle—$25 plus shipping

This way you can vicariously explore the wilderness with Tim and me throughout the year. And we'll keep hitting the trails.