TRAVELING IN TIME—ALL IN A BUNDLE
Everybody loves time travel stories. As a little kid I remember my parents taking me to the movie theater to see THE TIME MACHINE, starring Rod Taylor, based on the HG Wells novel. It was fascinating to watch the machine spin forward in time as the sun and moon whirled over head. Then the time traveler arriving in the far future to fight against the (let's face it, REALLY SCARY Morlocks), before racing back to the present (well, 1890s, actually).  The novel THE TIME MACHINE was the very first "grown up" book I ever read, when I was about eight years old.
Would you travel forward in time, as HG Wells's intrepid adventurer did, or go back in time to change (or at least witness) history? Maybe back to World War II to prevent the first atomic bomb? Or back to the 1960s Summer of Love? Or the Kennedy assassination?  Or would you go sideways in time to see alternate timelines where the world is shifted into a new reality?
I just put together a new Time Travel Bundle for Storybundle.com, 13 books exploring all facets of time travel. You can get the whole batch for as little as $14, or the basic group of six books for just $5.  Name your own price, either at the minimum or as much as you feel they're worth.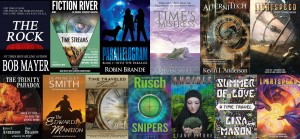 I'm very proud of this bundle. I put together great stories by bestselling and award-winning authors as well as the best new indie writers.  If you want bestselling authors, you'll get THE ROCK by Bob Mayer, TIME'S MISTRESS by Steven Savile, ALTERNITECH by Kevin J. Anderson, SNIPERS by Kristine Kathryn Rusch, and THE EDWARDS MANSION by Dean Wesley Smith, and THE TRINITY PARADOX by Kevin J. Anderson and Doug Beason. And you'll also get SUMMER OF LOVE by Lisa Mason, PARALLELLOGRAM by Robin Brande, ANSIBLE, by Stant Litore, and two amazing anthologies of the best time-travel short fiction, FICTION RIVER: TIME STREAMS edited by Dean Wesley Smith and TIME TRAVELED TALES edited by Jean Rabe, which contain stories by Michael A. Stackpole, Aaron Allston, Timothy Zahn, Mike Resnick, Scott William Carter and many more.  As a special bonus, you get two complete issues of LIGHTSPEED magazine in the full bundle.
But time is ticking away.  This bundle will be live for only three weeks.  Fill up your reading device and take all the time you need to read them all.  Download them all at http://storybundle.com