Two New Thrillers by Comics Legend MIKE BARON
Even before WordFire Press became his publisher, I was a fan of Mike Baron's dark, edgy fiction. I accepted two of his stories for my BLOOD LITE anthology series. I read his ground-breaking comics work on NEXUS, THE PUNISHER, THE BADGER, DEADMAN, STAR WARS, THE FLASH, and others. He has won both the Inkpot and the Eisner Award, two of the highest honors in the comics field. Like me, he grew up in Wisconsin, and he also escaped.  And he also enjoys a good microbrew IPA. What's not to like?
After reading his work, I wrote "Mike Baron is like Quentin Tarantino on paper"—and I think that's exactly appropriate. His stories are raw, powerful, quirky, funny, dark, violent, exciting. We just released his two newest thriller novels at the same time, in trade-paperback print as well as in all eBook formats.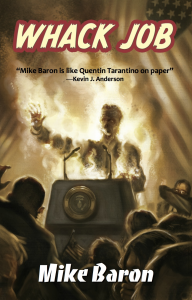 When world leaders burst into flame like a string of firecrackers, the President calls on a renegade former agent with a history of mental problems. Otto "Aardvark" White possesses a unique quality.  He's lucky.  What Otto discovers in the mountains of Colorado will blow your mind and change the way you look at the world.
"Mike Baron's Whack Job is pretty freaking brilliant."—James A. Owen
Trade paperback (or order from your favorite bookstore)
Kindle
Kobo
Nook
All other eBook formats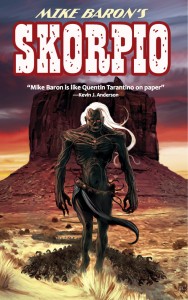 A GHOST WHO APPEARS ONLY UNDER THE BLAZING SUN
Vaughan Beadles, Professor of Anthropology at swanky Creighton University, is on top of the world. Married to a beautiful woman, Beadles has just taken possession of the largest uncatalogued Amerindian collection in the US.
For years Beadles has investigated the mysteriously vanished Azuma, but when one of his students dies from a scorpion sting, his world comes crashing down.  His wife abandons him, and he finds himself charged with grand larceny and manslaughter.
His only hope for redemption is to prove that the Azuma were real and find the epicenter of their civilization—a journey that takes him to Arizona and a fateful encounter with a monster literally from his own nightmares.
Trade paperback (or order from your favorite bookstore)
Kindle
Kobo
Nook
All other eBook formats