Unveiling: Cover Art for THE DARK BETWEEN THE STARS
Stephen Youll is a fabulous artist and has done many of my book covers, almost all of our DUNE covers, all of my Star Wars TALES covers, the original Saga of Seven Suns covers, BLINDFOLD, and the three HELLHOLE covers.  It's no wonder, then, that I really wanted him on board for the covers of my new "Saga of Shadows" trilogy, a next-generation epic set in the Seven Suns universe.
I worked with Steve to develop the illustration for the first volume, THE DARK BETWEEN THE STARS, which will be out in June 2014 in hardcover from Tor Books (US) and Simon & Schuster (UK).  This scene shows Roamer ships encountering a huge, derelict alien city in space, far outside of a star system.  He captured the moody, shadowy "haunted house" feel I was after.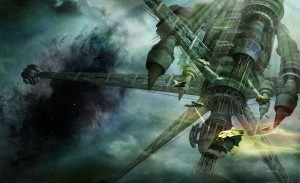 In the meantime, you have months to reread the original Saga of Seven Suns series:
VEILED ALLIANCES
HIDDEN EMPIRE
A FOREST OF STARS
HORIZON STORMS
SCATTERED SUNS
OF FIRE AND NIGHT
METAL SWARM
THE ASHES OF WORLDS