Yes, WonderCon was full of wonder!
What a con! First off, how can a con weekend not go well when it starts with a visit to Disneyland? Our hotel was literally across the street from the theme park in Anaheim, CA, and Rebecca and I enjoyed a little "stroll," getting back in touch with our inner children (yes, they're still there).
Then I got to enjoy being a special guest for WonderCon. By the time I got to the convention center, the WordFire Press booth was standing tall and proud. We were all ready to conquer the con once the doors opened and the crowd rushed in.
During the event, Rebecca got a spotlight panel to talk about her career while I presented on The Secret Origin of Good Readers, Working in the Star Wars Universe, and my popular talk: Building My First Lightsaber! Packed rooms during all of those, I'm happy to say.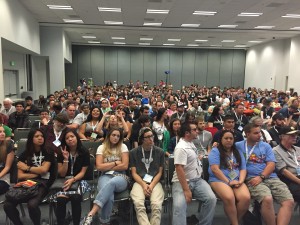 As usual, we had an incredible team at the WordFire Press booth, including Rebecca (and a few of her nephews), Quincy J. Allen, Lissa Jensen, Darin Calhoun, Eva Eldridge, Peter Wacks, Michelle Corsillo, and Josh Vogt. Some of the Galaxy Press folks also came over and got involved in engaging the crowd and selling books—they said they had a great time, so we have to believe them!
Author Greg Van Eekhout also joined us for most of the weekend. His books—California Bones and Pacific Fire—sold out quickly, and we loved having his smiling face there.
Alongside all that, we hosted space for a new charity, Stories for Students, a nonprofit working to get more books and ebooks into classrooms, libraries, and more. We gave away a bunch of fun steampunk-styled, illustrated stories and coloring books while signing up teachers, librarian, and others in the education system for future charity newsletters.
I often run into tons of people I know, and this weekend was no exception. I saw Bill Morrison, of Simpsons and Futurama fame, Sergio Aragones, Patricia Tallman, and also met a dazzling duo, the Winner Twins, Brittany and Brianna.
Oh…and this happened!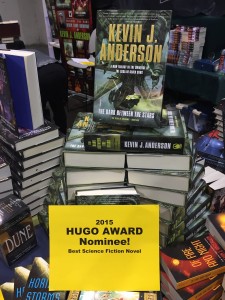 I'm very pleased by the honor, and we're already making plans to be out at Sasquan for Worldcon in August 19-23. Hope to see many of you there, plus at all the other cons we've got planned along the way.