Another Great San Diego Comic Con
Returned home from another exciting, crowded, and fruitful San Diego Comic Con. I would have posted photos earlier, but we forgot to bring the download cable for the camera!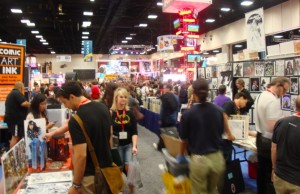 We arrived on Wednesday, were picked up from the airport by Comic Con staff, and brought to the Omni hotel, right across from the Convention Center. (Rebecca was a Special Guest author for Comic Con, so we were treated very well. Thanks, SDCC staff!)
We had an impromptu lunch with Alex Lencicki, my publicist from Orbit, and Orbit editor DongWon Song, relaxed a little in the afternoon, then went over to the big preview night (already wall-to-wall people), did a tour of the floor, saw a lot of friends and editors in the aisles and at booths, and saw the spectacular Dunenovels booth set up by Byron Merritt and Kim Herbert, with a large display of SISTERHOOD OF DUNE.  After preview night, we met my typist Mary Thomson and "research babe" Cherie Buchheim for dinner at an excellent Irish Pub.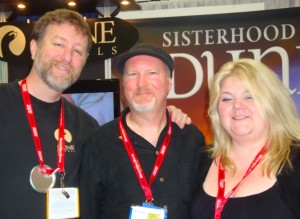 Byron Merritt, Kevin, and Kim Herbert
Thursday, the con started in earnest. I was on a big panel "Putting the Epic in Epic Fantasy" with George R.R. Martin, Brandon Sanderson, Christopher Paolini, Peter Orullian, Patrick Rothfuss, and KJ Taylor, followed by an autographing in the open Sail Pavilion.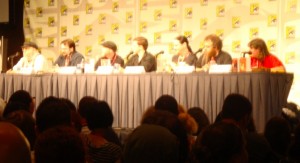 George R.R. Martin, Brandon Sanderson, Kevin J. Anderson, Christopher Paolini, Peter Orullian, Patrick Rothfuss, KJ Taylor.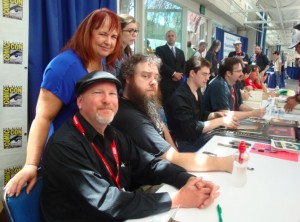 Kevin & Rebecca, Patrick Rothfuss, Christopher Paolini, Brandon Sanderson
We spent more time on the floor that afternoon, then met Byron Merritt, Kim Herbert, and other members of the family for an excellent dinner at the Karl Strauss brewery, after which Rebecca and I attended a Captain America launch party, sponsored by Wikia, at the Rock Bottom Brewery (a great night for breweries!)
Friday was Rebecca's big spotlight day. We had breakfast with Nancy Holder, who would be the MC at her main panel. (We ate at a local coffee shop that had been competely retooled and made over into the Cafe Diem from EUREKA.) Before Rebecca's panel we tracked down our friend Pat Tallman (from Babylon 5) in the aut0graph area to say Hi, then went to Rebecca's spotlight, followed by an autographing session. Dinner that night with Christopher Paolini and his sister Angela, Timothy Zahn and his family.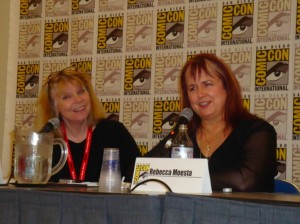 Nancy Holder and Rebecca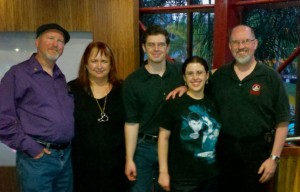 Kevin, Rebecca, Christopher Paolini, Angela Paolini, Timothy Zahn
Saturday was the full-on business day. I met Steve Saffel, my editor from Titan Books (who is reprinting my novel CAPTAIN NEMO in a deluxe edition this September), then went to see good friend and Star Wars comics writer Tom Taylor, who gave me my new hat in Australia, and we were dutifully wearing them in San Diego. I also talked with many of my other editors, the Tor Books staff, Orbit Books staff, and a lot of other people. Dinner that night with friends Harry Kloor, Len McCleod of Dark Skies films, and the gang.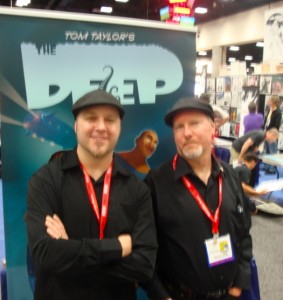 Tom Taylor, Kevin Anderson, and hats
Sunday—breakfast with John Goodwin from Galaxy Press, then over to the Dunenovels booth for an interview for Science Fiction News, then a meeting with Wolfgang Bylsma of Gestalt Comics (and we'll be announcing a great new graphic novel project, soon), then Rebecca had a panel on writing Middle Grades fiction. We had time to go around the floor one more time before the show shut down, one more signing at the Dunenovels booth, and then we went back to the Karl Strauss Brewery for dinner with Tom Taylor, Neil Kaplan, and other friends.
Exhausting, but a great show!