Another Incredible DragonCon
This year was the 25th anniversary of DragonCon, which bills itself as "the largest multi-media, popular culture convention focusing on science fiction and fantasy, gaming, comics, literature, art, music, and film in the universe!"  Of those twenty-five DragonCons, I've been to at least seventeen of them and was even a guest of honor a few years ago.  It was former DragonCon Chair Ed Kramer who put me together with Brian Herbert to do the new Dune books, and in 1999 we launched Dune: House Atreides at DragonCon; in 2005, DragonCon helped us celebrate the 40th anniversary of the publication of Dune, and next year we hope to launch DEATH WARMED OVER there, the first in my series of "Shamble & Die Investigations" novels.
DragonCon, in my opinion, is the heart and soul of the genre, a broad embracing of science fiction and fantasy in all its forms from literature, writing, comics, games, TV, film, and everything else.  This year's attendance, according to DragonCon Chairman Pat Henry, was up 15% from 2010, which was in itself a record. Where else can you ride in the elevator with Lou Ferrigno, Richard Hatch, and countless fans? (Not all at once, of course.)
We flew in on Thursday night, were picked up at the airport, gathered our badges and program books, then met up with Chris Brown and his wife Melinda; Chris is a fantastic guitarist who plays on our first Roswell Six CD (I knew him previously from his excellent band Ghost Circus); Melinda is a lawyer who was one of my test readers on DEATH WARMED OVER.  We had shipped 19 boxes of books to Chris and Melinda, who drove them in for our dealer's room table. Late at night we set up the table; Chris, Melinda, and their friends Libby, Rachelle, and Brianna helped us out with the table a great deal throughout the con—many kudos to them!
On Friday we had lunch with Tor editor Claire Eddy, then rushed off to the dealer's room to be there when it opened at 1 PM. We stayed to meet fans and autograph books until 2:30, when Rebecca and I gave our 2-hour workshop on the writing track, "Things I Wish Some Pro Had Told Me When I Was Starting out."  Then back to the dealer's room before wrapping up for dinner with 60 Mandalorian Mercs (I'm an honorary member, and it was good pizza!); we were also joined by Temuera Morrison, the actor who played Jango Fett in the Star Wars prequels (and therefore much respected by Mandalorians).  (While in the elevator to get changed for dinner, I rode with Nana Visitor from Deep Space Nine; she asked what exciting plans I had for the evening. I told her I was having dinner with sixty Mandalorians. She said, "I can't top that.") Afterward, a couple of parties…then bed.
Saturday I got up early to catch my ride to the Decatur Book Festival, another large event in the Atlanta area that occurs on the same weekend. I was a guest author speaker, and I delivered a 45-minute speech to a crowd of mostly non-SF fans. I signed books, then the driver took me back to Dragoncon to make my 1:00 panel on brainstorming disaster novels with Michael Z Williamson, S.M. Stirling, and others. I was able to make a brief appearance at the dealer's room table to sign more books, then I gave my reading to a standing-room-only crowd, the first chapter of SISTERHOOD OF DUNE and the first two chapters of DEATH WARMED OVER.  Door prizes and free SISTERHOOD OF DUNE posters for everybody.
At the banquet that evening, Rebecca and I sat next to famed artist Michael Whelan and his wife, as well as the founder of Navy Seal Team Six, who really *does* things more incredible than the stuff I make up…and he's a SF fan, too.  Peter David was, as usual, the hilarious MC.  Paul Mercer from the Ghosts Project entertained us with his haunting violin, the legendary James Darin gave us a private concert, and William Shatner received a Julie Award. Afterward, a couple of parties (including a big 501st Legion reception)…then bed.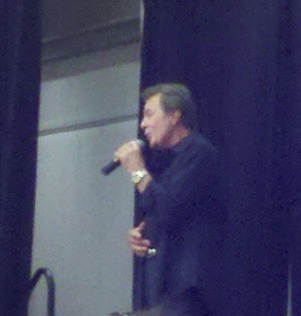 James Darin sings at the banquet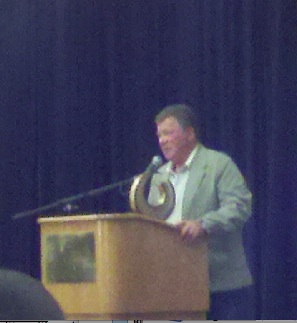 William Shatner receives his Julie Award
Sunday morning we went back to the table to find that Melinda, Libby, Chris, and Rachelle had already sold the lion's share of our books and given out stacks of SISTERHOOD OF DUNE posters, as well as Kim Herbert's very useful chronological catalog of the complete Dune books. I had a TV interview on Sunday morning about the life and works of Andre Norton. Rebecca had a panel at 10 AM on writing in shared universes.
I met up with June Scobee Rodgers from the Challenger Centers who was giving a guest lecture on the Space Track (and June came to do a signing at our table that afternoon along with game designer, entrepreneur, and civilian astronaut Richard Garriott).  Rebecca and I both had a formal autograph session in the main autograph hall (I didn't think there were any fans left at DragonCon who needed books signed, but nevertheless we had a line for a full hour).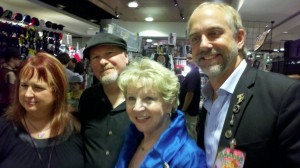 Rebecca, Kevin, June Scobee Rodgers, Richard Garriott
At 1 PM I was on a panel of "New York Times Bestselling Authors Tell All" with Terry Brooks, Sherrilyn Kenyon, Charlaine Harris, and Jonathan Maberry. Later that afternoon, Rebecca and I were on a Star Wars author panel with A.C. Crispin, Mike Stackpole, Aaron Allston, Walter Jon Williams, and Timothy Zahn, and I participated in a panel about HG Wells and the War of the Worlds.  By then, 8 PM, we met up with Sherri Kenyon for dinner at a Brazilian steakhouse.  Afterward, a couple of parties…then bed.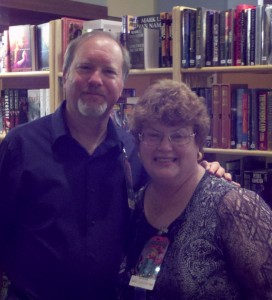 With Charlaine Harris at the Missing Volume bookstore booth
Monday, a relatively light day. Reb & I had a scheduled signing at the bookstore booth for The Missing Volume, then back to the dealer's room table to sign more autographs from last-minute fan purchases. By now, we had sold out of HELLHOLE, most of the Seven Suns books, all but a few of the Terra Incognita books, and a large stack of the Roswell Six/Terra Incognita CDs. Chris Brown and I managed to sneak away to Max Lager's Brewery for a quick lunch (I make a habit of giving their talented brewmaster JR a signed book each year for Dragoncon), and by the time we came back it was wrapup for the table to get ready for the end of the show. Most of the leftover books fit into our suitcases, and Rebecca and I headed off to the airport while being doused with rain from Tropical Storm Lee.
Already counting down the days until next year's Dragoncon.