CAPTAIN NEMO returns
Of my more than 100 novels, CAPTAIN NEMO has always been among my favorite. I spent three years researching the life of Jules Verne, French history, and all of the complex details of the time period to craft a story about Jules Verne's life and his fictional friendship with André Nemo, his best friend, who went around the world experiencing the adventures that only Verne could write about.  CAPTAIN NEMO was published many years ago and, thanks to a publisher and editor implosion, got very little distribution.
Now, Titan Books has reissued CAPTAIN NEMO in a fine new edition, with my preferred text. The cover is spectacular, perfectly nailing what the book is about.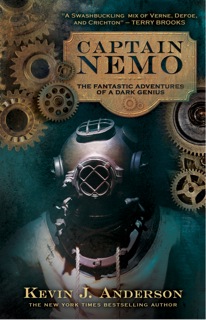 When Andre Nemo's father dies suddenly, the young adventurer takes to the
sea and is accompanied by his lifetime friend, Jules Verne. Verne is
thwarted in his yearning for action, while Nemo continues across the
continents. Years pass, and he is feared dead.
Far from lost, however, Nemo criss-crosses the globe. He discovers the lost
city of Timbuktu, the hidden land at the centre of the earth, and is
marooned on the uncharted mysterious island. He faces bloodthirsty pirates,
prehistoric monsters, Arab slavers, and serves in the British cavalry
against the Russians in the charge of the Light Brigade. Against all odds he
survives, and becomes the captain of the futuristic vessel know as the
Nautilus.
CAPTAIN NEMO is released this week. Please take a look—it's one of my very best.