CLOCKWORK and REPERCUSSIONS
All right, I publish a lot of books. I love to write, I love to tell stories, and it seems I always have some new novel out.
This one is special.
I'm not kidding when I say that of my 130 books so far, I really believe CLOCKWORK LIVES is one of my very best. It's a novel where all the pieces fit together just perfectly, that throughout the writing I felt that I was achieving my best work, every single day. Yes, I'm proud of it.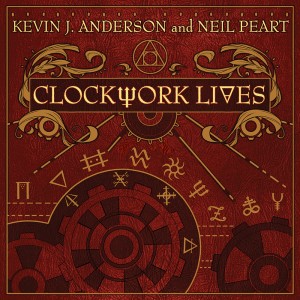 CLOCKWORK LIVES is a steampunk fantasy novel, sort of a clockwork Canterbury Tales set in the same universe as my 2012 bestseller CLOCKWORK ANGELS. And like ANGELS, I wrote this novel with Neil Peart, the drummer and lyricist from Rush. He and I created the colorful and wondrous universe of Albion, the Watcmaker, the Anarchist, the Seven Cities of Gold, Poseidon City, and much more, and we wanted to return to explore the people and places more. CLOCKWORK LIVES consists of thirteen Tales, all of them bound by an overall story—and some of the most heart-wrenching and heart-warming prose I have ever written.
The physical book itself is something to pay attention to, as well. ECW Press released the trade edition with a red leatherette cover complete with embossed designs and gold stamping, marbled end-papers, color printing, parchement-style papers, as well as thirteen exquisite illustrations done by Nick Robles, the artist who so masterfully did all of the work on CLOCKWORK ANGELS: The Graphic Novel.
It's a beautiful book and (I think) a beautiful story inside. I hope you'll get a chance to read it. CLOCKWORK LIVES is available at your local or online book retailer. If you'd like to order a copy autographed by me, they are available at WordFire Shop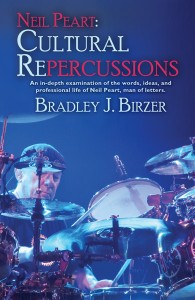 At WordFire Press, we are also pleased to release CULTURAL REPERCUSSIONS, a new book about the work of Neil Peart, written by Bradley J. Birzer, a well-respected literary scholar who has also published critical works on Tolkien, Carroll, and others. A lifelong Rush fan, Birzer decided it was about time that Neil Peart received the recognition for his lyrics and writing, hence the subtitle, "An in-depth examination of the words, ideas, and professional life of Neil Peart, man of letters.
Though Neil Peart is universally acknowledged as one of the greatest living drummers, few studies have been devoted to his writings. Yet, Peart is very much a man of his words. He writes lyrics, travelogues, short stories, essays, and books of cultural criticism. In terms of his cultural impact, he is also one of North America's greatest living men of letters. The themes he offers in his writings are timeless: philosophy, journeys, growth, exploration, excellence, art, satisfaction, happiness, religion, politics, individualism, expression, natural history, cultural criticism, life, love, loss, redemption, and beauty.
Peart wants every person to persevere through individual trials, and find his or her unique gifts and abilities and, ultimately, true happiness. Most tellingly, Peart does not just profess such things, he has lived them and continues to live them.
Never satisfied with second best or any form of defeat, Peart challenges himself time and time again to live up to his own philosophy. And he has succeeded through great personal adversity and, at times, irrational professional jealousy of and hatred toward him, and he has always succeeded through grace.
This book carefully examines the influence his life, his witness, and his words have had on others. Neil Peart has lived life to the fullest, and he has made us each better for it.
CULTURAL REPERCUSSIONS is available in trade paperback and in all eBook formats.