CLOCKWORK LIVES Tarot Card sets available for order
As a unique companion to my forthcoming steampunk "Canterbury Tales," CLOCKWORK LIVES—co-created with Rush drummer and lyricist Neil Peart—ECW Press has released a limited-edition set of Tarot cards. Each of the 13 cards contains a line illustration of one of the Clockwork Lives characters by Nick Robles, the artist who did such a fabulous job on our CLOCKWORK ANGELS graphic novel.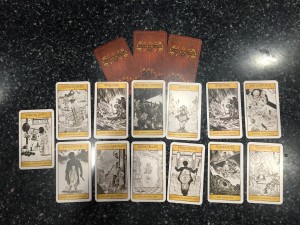 Only 300 sets of cards exist (I know, because I have them all right here in a box!). I will be selling them at the Hard Rock Cafe in Denver this Thursday night (two days before the Denver Rush concert!) and also at Rushcon in LA at the end of the month.
For those of you who can't make either of those appearances, though, I am making the card sets available for $15 each, plus postage.  The following links are for US orders, Canada/Mexico, and International. Limit of 3 per person, and when they're gone, they're gone.
US orders $15 + $2.50 postage
Canada/Mexico  $15 + $4 postage
International  $15 + $8 postage
"All this time we're shuffling and laying out all our cards"
The Alchemy Miner, the Astronomer, the Bookseller, the Fisherman, the Fortune-Teller, the Inventor, the Percussor, the Sea Captain, the Seeker, the Wrecker, the Pickpocket, the Strongman, and the Steamliner Pilot. Here's just one sample, from The Sea Captain's Tale: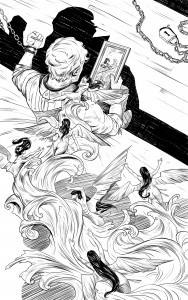 The novel CLOCKWORK LIVES will be released in September by ECW Press. A signed, numbered, slipcased edition of 500 copies sold out in a day (sorry!) but you can preorder one of the red-leatherette hardcover illustrated first editions now. PREORDER