The Cure for Crowds
We've had a very busy month, meeting a lot of fans.  A LOT of fans. In June we spent two weeks with Supanova in Australia, the pop-culture convention, where we signed a lot of autographs in Sydney and Perth. Then, after a couple of weeks at home, we headed off to San Diego for Comic Con International, 150,000 or so fans in the San Diego Convention Center; Rebecca was one of the special guest authors.  Again, a lot of people.
I needed some recharge time.
After Supanova and before Comic Con, I went on two mountain climbs here in Colorado, Kelso Mountain (13,181 ft) and Mount Silverheels (13,882 ft). A great way to recharge the mental batteries.
KELSO MOUNTAIN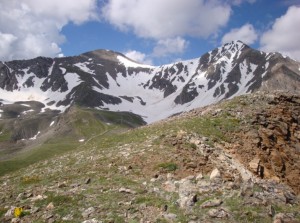 Fourteeners Grays Peak and Torrey's Peak from the hike to Kelso Mountain summit.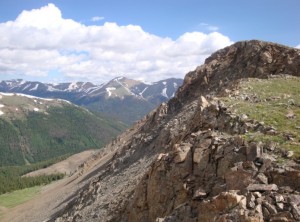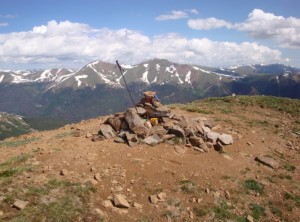 Kelso Mountain summit
MOUNT SILVERHEELS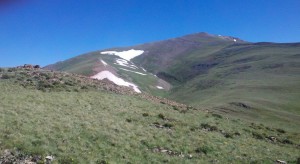 Mount Silverheels, which overlooks the real town of South Park.
No trail, just a "suggested route"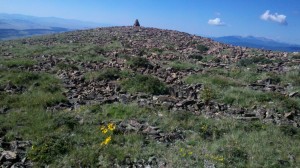 Cairn on a ridge, en route to Silverheels summit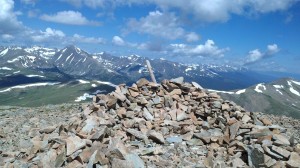 The summit of Mount Silverheels
After returning home from Comic Con, also "peopled out," I headed off to LaPlata Peak, my first Fourteener of the season (Colorado has 54 peaks higher than 14,000 ft). I have climbed all of them in the past, and the last time I climbed LaPlata I was writing chapters in our novel TITAN A.E.: CALE'S STORY; this time, I was plotting my second humorous zombie PI novel for Kensington (more on that series in a later posting).  I hiked this mountain on an entirely different trail, so it was a new experience.
LAPLATA PEAK