From the Darkest Midwest: Wisconsin stories
I grew up in small-town Wisconsin, surrounded by farms, cornfields…haunted houses, isolated neighbors, and not much else to do but read books and let my imagination run wild. I like to say it was a childhood halfway between Norman Rockwell and Norman Bates.
Over the past twenty years or so, I have been writing a series of dark-fantasy stories that chronicle the history of a fictitious, cursed small town in Wisconsin, Tucker's Grove. Recently, I spent several months collecting this entire cycle, rewriting all the pieces to fit together—it's now available for the first time ever as an eBook original, TUCKER'S GROVE.
A cursed town, ghosts, walking dead, demonic trains, time-traveling mirrors, madmen, ancient bloodthirsty gods, possessed cameras, a shadowy circus, the Grim Reaper, historical legends, and a well through which the ancient past is leaking. These form the stories of Tucker's Grove, a place you might want to read about, but probably not visit.
An eBook original—$2.99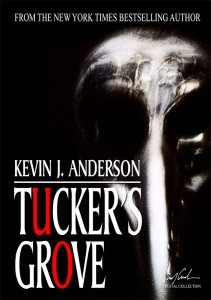 Kindle
Nook
Other eReader Formats