The Denver and Dallas Comic Con Retrospective
We've been on the road quite a bit lately with the WordFire Press team, and now Rebecca and I are going even further, hopping down under to Australia for Supanova in Sidney and Perth! But before we go, I wanted to let you know how the last couple of conventions have gone for us.
In short: Fantastically.
Now for a little longer review…
At the end of May and beginning of June, we had our usual big booth set up at both Denver Comic Con and Dallas Comic Con. Denver Comic Con is our hometown convention, and we always love seeing the locals and any out-of-state fans who make it by. Every year, this con has grown, and 2015 was no exception.
The schedule was a little odd with the 3-day weekend—the con started on Saturday and went until Monday—but that didn't stop it from being a big success. Set square in the middle of downtown Denver, at the convention center with the big blue bear, we got to be surrounded by over 80,000 people.
The booth was crowded with authors, including myself and Rebecca, Dan Wells, Sarah Hoyt, Peter Wacks, Aaron Michael Ritchey, Dave Butler, Josh Vogt, David Boop, and a great team of volunteers. We also had three WordFire Press authors launching books during Denver CC, including Quincy Allen's Chemical Burn, Mario Acevedo's Rescue From Planet Pleasure (the return of Felix Gomez!), and Josh Vogt's Enter the Janitor (which sold out). Sunday night, WordFire Press hosted a launch party, where more than 60 people showed up to meet the authors, buy their books, and get them signed. Thanks to everyone who attended!
My novel The Dark Between the Stars got a lot of great attention, especially with its Hugo nomination. And I got to distribute "The Bookseller's Tale," a sneak preview of my new steampunk novel with Neil Peart, Clockwork Lives, which takes place in the same world as Clockwork Angels. Keep an eye out for "The Bookseller's Tale" at future cons as well.
Next weekend, I had a little adventure getting to Dallas Comic Con, thanks to torrential rains and flooding. After a redirected flight to Tulsa, sleeping on a bench in Baggage Claim, and a crack-of-dawn rental car drive for four hours, I finally arrived and joined in the fun.
In Dallas, Chemical Burn quickly sold out—as did the few Rescue From Planet Pleasure and Enter the Janitor copies we were able to scrounge up in-between shows. Josh Vogt also had his Pathfinder tie-in, Forge of Ashes, at the booth, and that was easily gone by the end of the weekend.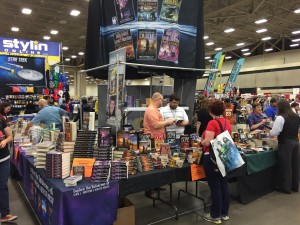 Our author guests for Dallas included Rhiannon Paille, Cie Adams, and Kathleen Baldwin, all of whom were a hit with the crowd! Everyone had at least a panel or two, though for my "Building My First Lightsaber" talk, I did have to explain that I wasn't teaching people how to build an actual lightsaber. (To avoid any future confusion, remember that it's just a metaphor for how my passions and career have intertwined.)
with Tor authors Cat Adams (top) and Kathleen Baldwin
That's it for now. Huge thanks to all the volunteers who helped out over the weekends, and we all look forward to seeing many more of you as we continue popping up at cons throughout the rest of the year!