Get Your Signed Limited CLOCKWORK LIVES Booklet (and a CLOCKWORK Tarot Card!)
To celebrate the upcoming release of CLOCKWORK LIVES, the second "Clockwork" novel written with Neil Peart and based on the fabulous steampunk universe from the Rush album "Clockwork Lives," ECW Press created a lovely sneak-preview booklet containing The Bookseller's Tale…one of the stories from CLOCKWORK LIVES.  That book is a novel in its own right, intertwined with a sequence of steampunk "Canterbury Tales" featuring familiar and new characters.  The Bookseller's Tale features the story of the strange interdimensonal bookseller Mrs. Courier, one of the most popular and mysterious side characters from CLOCKWORK ANGELS, as well as an afterword on how the book came to be written.
We debuted the sneak-preview booklets at Denver Comic Con two weeks ago, and gave out hundreds more at Dallas FanExpo last weekend. But countless Rush fans also wrote and posted, asking how they could get one, even if they couldn't attend one of my appearances.  I promised I would figure out a way.
I keep my promises.
If you'll pay for postage and envelope, I'll mail you a signed copy of the booklet. No other charge.  Worldwide.  Here's a direct link to order the booklet via PayPal:
In US  $3  https://www.paypal.com/cgi-bin/webscr?cmd=_s-xclick&hosted_button_id=TDJA2P549UBXS
In Canada $5 https://www.paypal.com/cgi-bin/webscr?cmd=_s-xclick&hosted_button_id=C7CT8XE2P3FXC
Worldwide  $8 https://www.paypal.com/cgi-bin/webscr?cmd=_s-xclick&hosted_button_id=5SY2VB2KC9LFG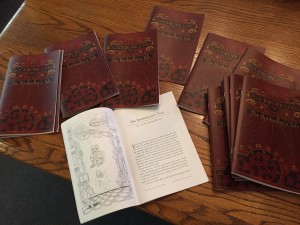 But, wait! There's more!  ECW also created a set of 13 CLOCKWORK LIVES tarot cards, featuring the main characters in the interspersed Tales. The Inventor, The Astronomer, The Steamliner Pilot, The Strongman, The Fortune Teller, The Alchemy Miner, The Bookseller, The Fisherman, The Percussor, The Sea Captain, The Wrecker, The Seeker, The Pickpocket.  If you send for one of the Booksellers Tale booklets, I will include one Tarot card at random in your packet—see what your fortune is!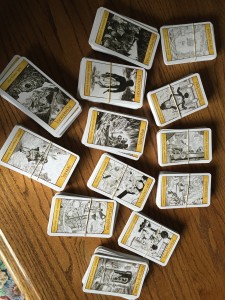 And if you love this teaser as much as I think you will, please PREORDER the book from your favorite bookseller (maybe not from Mrs. Courier at Underworld Books…)  That's what helps us make the bestseller lists when Clockwork Lives is released in September.
All is for the best!