Great High-Tech Thrillers by Bill Ransom
Bill Ransom, Frank Herbert's coauthor on the Pandora Sequence (The Jesus Incident, The Lazarus Effect, and The Ascension Factor) is an accomplished and respected novelist in his own right, and WordFirePress is pleased to offer Bill's backlist of gritty, near-future thrillers which have been unavailable for many years—ViraVax, Burn, and Jaguar (all for $2.99), as well as The Jesus Incident.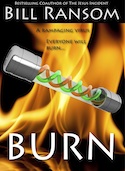 A vivid and gritty thriller in the vein of Michael Crichton and Tom Clancy, BURN takes today's genetic research one step into a terrifying future, a "Hot Zone" world gone mad about a man-made contagion that literally leaves no one untouched. It is called GenoVax, and the death it brings is horrifying. It is the most frightening weapon mankind has ever created, and when it is unleashed, the human race will know what it is like to burn. . . .
Kindle
Nook
Other eReader Formats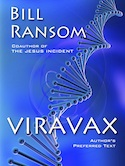 In the private laboratory known as ViraVax, Rico Toledo has uncovered a horrifying truth. In this place, run by a mysterious group called the Children of Eden, the worst suspicions of ex-intelligence officer Toledo have been confirmed: his partner has been genetically programmed for assassination—and Toledo may have been altered too.
Kindle
Nook
Other eReader Formats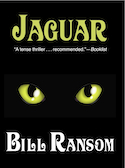 In waking life, he is a combat vet with a mysterious sleep disorder, confined to a VA hospital bed. When he sleeps, he roams the plains of another world, invading the minds of the people as they dream and forcing them to do his will. They call him . . . Jaguar.
In both worlds, there are those who know the Jaguar's secret. They are learning to link their minds across the void between worlds, following the dreampaths the Jaguar created—all the way back to where his body lies helpless . . . an easy target for their justice.
Kindle
Nook
Other eReader Formats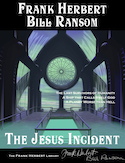 A sentient Ship with godlike powers (and aspirations) delivers the last survivors of humanity to a horrific, poisonous planet, Pandora—rife with deadly Nerve-Runners, Hooded Dashers, airborne jellyfish, and intelligent kelp. Chaplain/Psychiatrist Raja Lon Flattery is brought back out of hybernation to witness Ship's machinations as well as the schemes of human scientists manipulating the genetic structure of humanity.
Sequel to Frank Herbert's Destination: Void, the first book in Herbert & Ransom's Pandora Sequence, which also includesThe Lazarus Effect and The Ascension Factor.
Kindle
Nook
Other eReader Formats