Guest blog from Brian Herbert: when the OCEAN fights back
One day several years ago, my wife Jan returned from a trip to Hawaii, and she had an idea for a novel that was simple yet large in scope—as many great ideas are—a story about problems in the ocean that she'd been wanting to write for years.
I spent some time brainstorming with her, and in a spiral notebook I made notes about the setting, characterizations, and plot.  Then I began typing it up—a story set in Hawaii that had the ocean (and its problems) in the background.  She read what I handed her, and then said, diplomatically, "This is good, Brian, but I was thinking more along the line that the ocean is fighting back against humans.  What if the ocean is an entity in itself, and is not going to put up with any more abuse from human beings, and decides to take strong action against the violators?  What if it declares war on our civilization?"
And she had a title in mind, one that was simple and clean: 
Ocean
.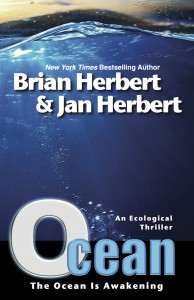 "Oh," I said, finally understanding.  So I set about creating a new main storyline centered on the ocean, discussing it with Jan as I worked on it, showing her chapters that I had written, and obtaining her suggestions.  As I got into the book, discussing it with her constantly, the characters and plot seemed to come alive, and I wrote more than 165,000 words in only a few months of intense work—quite a pace for me.  You have before you a slightly longer version than that, after the manuscript went through several drafts, improving it each time.  
Over the years, I have dedicated many books to Jan.  She has always read my material when it was in progress and commented on it, and she did that on this novel as well.  But this time I knew in my heart that it was not enough to give her yet another dedication, or even a long introduction such as this one.  Truly, she deserved to be the co-author of the book, because this was 
her
 book, her fantastic concept.  These pages reflect the love Jan feels for the ocean and the incredible creatures that inhabit it, marine animals that have sentience, feelings, and souls.  She was the inspiration for this project, and the continuing light that enabled me to proceed with it, and to stay on the right track.
I have often said that I could never write unless Jan permitted me to do so.  She has always given me the space for my creativity, has always said that it didn't matter if we had any money at all, that if I ever wanted to sell everything and live somewhere simple, without the daily pressures of owning things and paying bills, she would support me.
For years we have been a creative team—Jan with her painting and photography and me with my writing.  On trips to distant lands, we often find places to go where she paints and I write.  We sit outside, or in some other place where the creative energy is good around us, and we do our separate projects, with me critiquing her art, and her critiquing my writing.  I've always known that she was intelligent, but after she brought me the idea for this novel about the ocean, I realized that she is brilliant.  Jan is not only the shining light in my life; she is much more.  And truly she deserves credit for this novel, because 
Ocean
 is her story.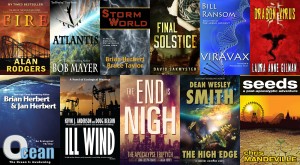 OCEAN is one of eleven great disaster novels in the current
Disasters! Storybundle
at
storybundle.com
—all eleven books for as little as $15, name your own price, and a portion goes to charity.  It only runs for another week, so don't wait too long!