Home again, to…relax?
After being gone from home for more than two weeks, it was great to arrive back in Colorado, to my own house, my wife, the cats (all of whom claimed to be attention-starved), my kitchen, my office, my pillow…and the stack of mail, all the "take care of this when you have time" requests, the usual household emergencies, the ringing phone.
I did manage to go out for a brief hike the following day, Saturday, with beautiful weather and a lovely overlook on a plateau south of Denver, then on Sunday I drove around and did dropby Hellhole signings at four Colorado Springs bookstores. I figured, after hitting 13 cities around the country, it wasn't fair to ignore my own city!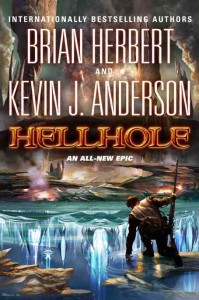 Monday, Rebecca and I drove up into the mountains to the Keystone Ski Resort where we had a very enjoyable dinner with Tom Doherty, publisher of Tor Books, his son Tom, and his grandson Tommy. That's a lot of Dohertys—all of them out in Colorado to go skiing.  Tom Doherty (Sr) has been publishing my books since Ill Wind in 1995 (20 books total, if my count is right), so we have a long-standing relationship.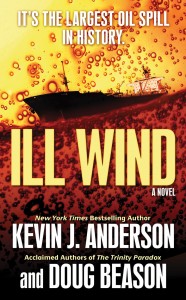 Meanwhile, Brian finished his last polish on Sisterhood of Dune (after discussions, we decided to drop the The), and Rebecca gave me and our test readers the manuscript for Star Challengers #3: Asteroid Crisis, which I'm reading now. Rebecca and I are both reading the four first-place stories from last year's Writers of the Future Contest, because all judges are involved in selecting the grand-prize winner; the awards event will be held in Hollywood next month.
I'm rereading Hellhole, so that Brian and I can do our full-fledged outline of the second novel and start writing soon; I'll be flying up to Seattle in the next couple of weeks for our pre-book brainstorming session. And Blood Lite 3: Aftertaste is going into production, so I have to chase down final tweaks to several stories and bios from 25 authors. I'm doing a last fine polish to the manuscript of my humorous zombie detective novel (an on-spec book), which my agent will be sending to publishers in a few weeks, and I've got to reread all seven volumes of the original Saga of Seven Suns to refresh my memory so I can begin work on the new trilogy, The Saga of Shadows.  And a few articles, and some preparations for next year's Superstars Writing Seminar in Las Vegas in April 2012.
Hmm, maybe doing a book tour in 13 cities in 16 days was the relaxing part…