Magnetic Reflections & new cover for BLINDFOLD
We've just released a collection that contains all of my short fiction with Doug Beason, Magnetic Reflections, available in all eBook formats for $2.99.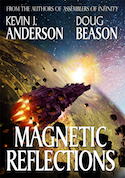 Includes "Reflections in a Magnetic Mirror"—Gripping science fiction story set at a Magnetic Mirror Fusion Facility, where scientists believe they have created life inside a plasma chamber. "Rescue at L-5"—Short story that became the basis for the novel Lifeline, stranded space stations use living solar sails to survive. "Prisons"—On a harsh prison planet, the warden and staff are as much prisoners as the convicts, but a risky prison break might free them all.  BONUS: this collection includes two never-before-published chapters from Kevin and Doug's ec0-disaster novel ILL WIND.
Kindle
Nook
other eReader Formats
We have also replaced the cover of my epic standalone science fiction novel BLINDFOLD, once again using the outstanding original cover painting by Stephen Youll, who has done most of our Dune covers and many of my Seven Suns covers.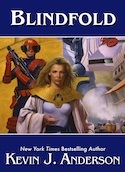 $4.99 Falsely accused of murder on the colony world of Atlas, Troy Boren trusts the young Truthsayer Kalliana . . . until, impossibly, she convicts him. Kalliana doesn't realize her power is fading, but soon the evidence becomes impossible to ignore. The Truthsayer drug Veritas has been diluted and someone in the colony is selling smuggled telepathy. Justice isn't blind—it's been blinded! From an immortal's orbital prison to the buried secrets of a regal fortress, Kalliana and Troy seek the conspiracy that threatens to destroy their world from within. For without truth and justice, Atlas will certainly fall. . . .
Kindle
Nook
other eReader Formats
And don't forget, we have released a new Dune short story along with several other never-collected Dune stories in a new eBook, Tales of Dune.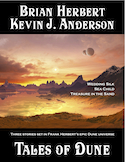 $3.99 Three previously uncollected stories set in the Dune universe by Brian Herbert & Kevin J. Anderson, includes the all-new tale "Wedding Silk," a story of young Paul Atreides, as well as "Sea Child" and "Treasure in the Sand." Bonus material includes "Dune: Blood and Water" and "Dune: Fremen Justice."
Kindle
Nook
other eReader Formats