Meet June Scobee Rodgers at DragonCon
On Saturday, Sept 4, June Scobee Rodgers—founder of the Challenger Learning Centers—will be appearing with me and Rebecca, as well as Loren Coleman (publisher of Catalyst Books) at DragonCon in Atlanta.  We have a panel at 1 PM about the Challenger Learning Centers for Space Science Education, as well as the Star Challengers series and the new release of the first volume, Moonbase Crisis.   All three of us will also be signing copies of the book at 4 PM Saturday at the Catalyst Game Labs booth in the dealer's room.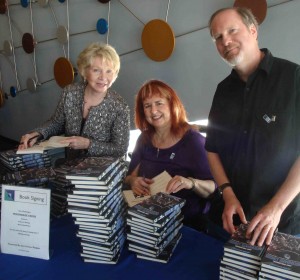 June Scobee Rodgers, Rebecca Moesta, and Kevin J. Anderson
with first copies of Star Challengers: Moonbase Crisis
If you're attending DragonCon, we hope to see you at the panel or the signing.