Moab Writing Trip: Red Rocks, White Snow
Each year as the holidays approach, our household gets ready for an invasion of relatives, a whirlwind of family activities, and not a lot of writing time. So, in early December I try to take a writing trip just to get caught up and to recharge my creative batteries, as well as to gather some alone time.  My two favorite places are Estes Park, CO on the edge of Rocky Mountain National Park, and Moab, Utah, the heart of Arches and Canyonlands, red rock, deep canyons, and very few people this time of year.
Because a big part of my effort right now is a careful reread of all seven volumes of The Saga of Seven Suns as i prepare to write the next-generation trilogy, Saga of Shadows, I took advantage of the long drive to Utah and played many hours of the audiobook of volume 5, OF FIRE AND NIGHT.  I also needed plenty of uninterrupted editing time to go over the manuscript of my second Dan Shamble, Zombie PI novel, UNNATURAL ACTS, and hiking time to write chapters in Dan Shamble #3, HAIR RAISING.
Even in winter, the weather in Moab is usually clear, blue skies, little snow, and temperatures between 40-50°F. I have been there so many times that I've checked off books of popular hikes, so now I could go wider afield for unique hiking experiences.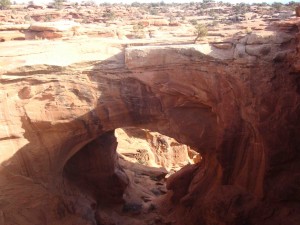 One of the Gemini Bridges
Long winter shadow on slickrock
Canyon by Gemini Bridges
Dead Horse Point
The first day I drove a 4X4 road out to obscure but impressive Gemini Bridges, a large natural bridge over a beautiful canyon; the bridge has split along the length so it's actually two close, parallel bridges.  Then I did a four-mile hike around Dead Horse Point, a tremendous view of the Colorado River cutting deep into a canyon below the Island in the Sky mesa. The weather was cloudy and cool, but pleasant for a hike.
Next day, the clouds had come in for a fresh snowfall, and the weather remained gray and foggy. I stayed in the room and edited all morning, hoping for the weather to clear; after I had lunch of a green chile cheeseburger at the Moab Diner, I decided to go hiking anyway, making a climb up to the top of Porcupine Rim, a sheer cliff overlooking breathtaking Castle Valley.  Unfortunately, the fog never lifted, the trail was covered with unbroken snow (no other hikers at all), and when I got to the supposedly jaw-dropping viewpoint, I saw only an abyss of impenetrable gray.  Still, eerie and atmospheric…and I did dictate a couple of HAIR RAISING chapters.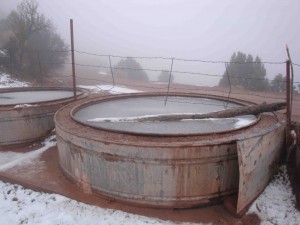 Frozen water tank at the trailhead.
Foggy landscape
Not much of a view
Next morning, the sky was crystal clear again and the day was warming up and perfect.  Determined to see that view from Porcupine Rim, I decided to do the same six-mile hike all over again. The snow was sparkling, a hefty clumping on all the delicate branches.  A beautiful hike and the view of Castle Valley from the sheer cliff of the Rim was awesome.
Road up to the Porcupine Rim trailhead, first tire tracks in the snow
Fresh snow on branches
THIS is the view worth hiking to: Castle Valley from the edge of the Porcupine Rim, two days, two hikes, twelve miles total to see this!
Shadows on slickrock fins
Slickrock fins, canyons, and the La Sal Mountains: Moab's greatest hits in one photo
I had a great and productive time: read 300 pages in OF FIRE AND NIGHT, edited 280 pages in UNNATURAL ACTS, and wrote 13 chapters in HAIR RAISING, finished three excellent hikes, read four Writers of the Future story manuscripts…and now I'm ready for the holidays.