New Cover Art for DEATH WARMED OVER
Kensington Books just released the cover art for DEATH WARMED OVER, the first novel in my Dan Shamble, Zombie PI series, which will be released this September.  The second volume, UNNATURAL ACTS, will come out four months later, and the third, HAIR RAISING, four months after that—all three out in a single calendar year.  What a way to launch an exciting and hilarious new series!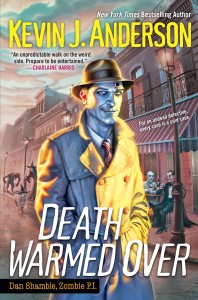 For an undead detective, every case is a cold case.
"An unpredictable walk on the weird side. Prepare to be entertained."—CHARLAINE HARRIS
"A darkly funny, wonderfully original detective tale."—KELLEY ARMSTRONG
SINGLE DEAD DETECTIVE SEEKS CLUE
Ever since The Big Uneasy unleashed vampires, werewolves, and other undead denizens on the world, it's been hell being a detective—especially for zombie P.I. Dan Chambeaux. Taking on the creepiest of cases in the Unnatural Quarter with a human lawyer for a partner and a ghost for a girlfriend, Chambeaux redefines "dead on arrival." But just because he was murdered doesn't mean he'd leave his clients in the lurch. Besides, zombies are so good at lurching.
Now he's back from the dead and back in business—with a case load that's downright unnatural. A resurrected mummy is suing the museum that put him on display. Two witches, victims of a curse gone terribly wrong, seek restitution from a publisher for not using "spell check" on its magical tomes.  And he's got to figure out a very personal question—Who killed him?
For Dan Chambeaux, it's all in a day's work. (Still, does ***everybody*** [delete: the media] have to call him "Shamble"?) Funny, fresh, and irresistible, this cadaverous caper puts the P.I. in R.I.P….with a vengeance.
"Master storyteller Kevin J. Anderson's  DEATH WARMED OVER is wickedly funny, deviously twisted and enormously satisfying. This is a big juicy bite of zombie goodness. Two decaying thumbs up!" -Jonathan Maberry, New York Times bestselling author of DEAD OF NIGHT and PATIENT ZERO
"Wry and inventive…The bad guys are werewolves, the clients are already deceased, and the readers are in for a funny, action-packed adventure."—SHARYN McCRUMB
"Anderson has become the literary equivalent of Quentin Tarantino in the fantasy adventure genre." —The Daily Rotation