New Reissue: MEMORYMAKERS by Brian Herbert & Marie Landis
We continue to bring back hard-t0-find classic works for all eBook formats. Most recent addition is MEMORYMAKERS by Brian Herbert and Marie Landis.  If you missed it the first time around, be sure to check it out.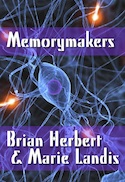 Memorymakers tells the story of an ancient race of beings called the Ch'Var, who live among humans. They look like humans, act like humans, talk like humans. Their appetites, though, are anything but human.
First of two collaborations between Brian Herbert and his cousin Marie Landis.
$3.99 in all eReader formats
Kindle
Nook
other eReader Formats
Next up, we'll be offering Brian Herbert's GARBAGE CHRONICLES, then two brand-new novels by Brian Herbert—THE STOLEN GOSPELS and THE LOST APOSTLES.
And after that, HIGH-OPP, a new and never-published novel by Frank Herbert!
For all available titles by Kevin J. Anderson, Brian Herbert, Frank Herbert, Bill Ransom, and others, see wordfirepress.com.  All books under $5.