New SISTERHOOD OF DUNE Hits Bookstores Today
I packed the suitcase last night while Rebecca and I watched a DVD of "Arrested Development" and this morning I'm ready to head off, spending the morning in Colorado Springs at bookstores signing copies of SISTERHOOD OF DUNE, as soon as the stores unpack their boxes.  I'll spend the afternoon in Denver and Boulder doing dropby signings at numerous stores, then I'll get to the Lone Tree Barnes & Noble for my formal talk and signing event tonight at 7 PM.  Brian has a similar schedule today all around the Seattle area, ending up at the University Book Store for his debut signing tonight.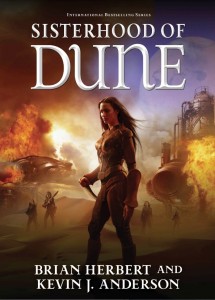 For a major book release, sales in the first week make a big difference. Bestseller lists measure the speed of sales in one-week chunks (they call this "velocity"), so the more copies that sell in a single week, the higher the book ranks on the lists. If you plan to buy Sisterhood of Dune, it would help us a lot if you could pick up your copy in the week of January 3–9.
The UK edition of SISTERHOOD should be available on January 5.