Painting Social Media Red for CLOCKWORK LIVES
Hoping we can add a splash of something interesting on your Facebook and Twitter feeds for the upcoming release of CLOCKWORK LIVES on September 15.
As I've said before (incessantly, some might call it), I am really very pleased with this book. It's a gorgeous volume, and I think some of the best storytelling I've done. Neil Peart called it the best thing of mine he's ever read (and he's read quite a lot)
So how to draw attention above all the noise?  Here's a colorful idea: Change your social media avatar (Facebook or Twitter) to the lovely square image of the CLOCKWORK LIVES cover, so lots of people will see it. And this is the time for the big push for the all-important preorders. (You've preordered your copy, right???)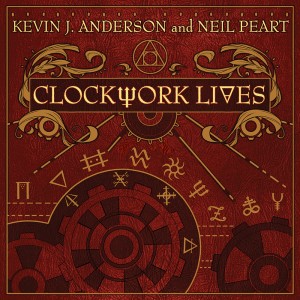 In fact, if you'll do that for me and Neil for at least the next week, I will send you a free, brand new story featuring Dan Shamble, Zombie PI, one of my most popular characters. "Eye of Newt"—It's never been published, and this is your ONLY chance to read it until it does appear in an anthology next year.
Once you've changed your avatar, send a notice to diane (at) wordfire (dot) com, and she'll forward you the story right away. The Watchmaker would approve!
And if you want to read another standalone story from the volume, The Pickpocket's Tale (the story of Guerrero from Clockwork Angels), you can download a free pdf from rush.com   Click the link at the end of the listing.