SISTERHOOD OF DUNE tour wrapup
I'm sitting in the Houston airport, waiting to board the plane home after doing SISTERHOOD OF DUNE talks and appearances in nine cities.  The hotels were nice, the many fans were wonderful…but home is awfully nice, too.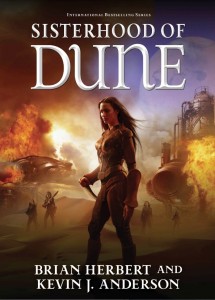 After Atlanta, I flew to Orlando—my first official signing in Florida in many years.  I had a nice crowd and a good turnout from the Florida garrison of the 501st Legion, and afterward I went to dinner with some friends and fans. I stayed in a suite in a gorgeous resort in Disney World…for about 7 hours, then I was off to Dallas at sunrise the next morning.  Even though I got to the airport early in the morning, the plane didn't seem to want to leave Orlando.  first delayed by two hours, then cancelled, and I had to wait in standby for another flight (which was full), then had a confirmed seat on an afternoon flight that got me in to Dallas with very little time before my evening event.  Nothing like a little excitement.
Meanwhile, Brian had made his way down the coast to Mysterious Galaxy in Redondo Beach and then Vroman's in Pasadena, also drawing nice crowds. In Pasadena he met a fan who had named his daughter Alia.
My crowd in Dallas was the largest on the tour so far, about 80 people, and I went out with some alumni from the Superstars Writing Seminar for dinner at a local Mexican restaurant.  A terrific turnout from the Star Garrison of the 501st (I was even wearing one of their shirts).  Next day, off to Houston for a day of bookstore visits, stock signings, and an evening event out at the gigantic Woodlands Mall.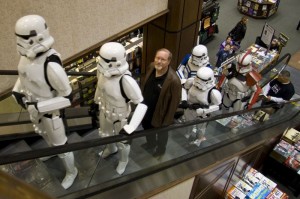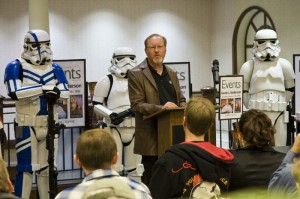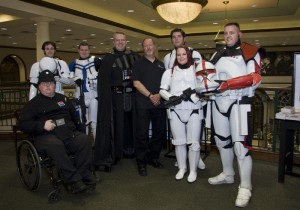 In late afternoon I received word from our agent that SISTERHOOD OF DUNE had hit the New York Times bestseller list—and that marks my fiftieth national or international bestseller over the course of my career.  (Yes, definitely cause for a second beer late that night.)
In the true spirit of Texans insisting on doing everything *bigger* the crowd in Houston was even larger than the one in Dallas, the largest turnout on the tour, at 97 people.  I had planned to go out to dinner at a well-known local BBQ joint afterward, but there were so many people we didn't get out of the bookstore until 10 PM, and the restaurants were all closed. We did manage to find a Cheesecake Factory that stayed open until 11, and had a nice dinner there.
I haven't received a report yet on Brian's signing last night at Mysterious Galaxy in San Diego. He still has two more appearances in the next few days up in Bellingham WA and Vancouver BC.
And now, up early and checked in at the airport for the home flight.  Thanks for all of you who came out to see either Brian or myself, and a round of applause for all the 501sters who came out to troop at my signings (they were present at all but two of my events).  I hope you enjoy SISTERHOOD OF DUNE.