Story in a New Cancer Research Benefit Anthology
I have a story appearing in a just-released anthology, METASTASIS, to benefit cancer research, from Wolfsinger Publications.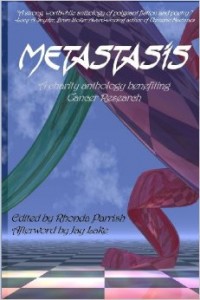 "Walk with us." —Jay Lake
Walk with us as we explore the world of cancer as seen through a speculative fiction lens. Hold our hands while we venture into the world of what-ifs. Take a journey at our side as we experience the full spectrum of what cancer has to offer. The light, the darkness.
Within these pages you'll meet a woman who adores her cancer as a lover, another who sees it as her ticket to immortality. We'll meet a boy willing to do anything to save his mother and another with superpowers. There's a witch who uses magic to fight against the beast ravaging her friend's body, a cat whose capacity for love is unparalleled, a damaged musician, aliens, a goddess butterfly and so much more.
These are not easy stories to read. This is not a comforting collection that will wipe your fears away and make everything all right. It's not that kind of book. These stories will make you cry, but they'll also make you laugh. They'll touch you and stir emotions. These stories aren't all fun, but they are important. All of them.
Edited by Rhonda Parrish, this extraordinary collection of speculative fiction revolves around the theme of cancer. Including work by award-winning and bestselling authors including Jay Lake and Kevin J. Anderson, these 26 stories and poems tell tales of pain and hope, love and loss, fear and strength.
Cancer scares us. There is so much we don't know about it, but it's out there, waiting to strike. This anthology attempts to strike back by supporting research that will develop new treatments and, eventually, find a cure.
WolfSinger Publications, the editor and contributors combined are donating a total of 62.5% of all proceeds to the American Cancer Society.
Print edition  $14.95
Kindle  $6.95
Kobo $6.95
My story, "Tidepools," is part of my ALTERNITECH sequence of alternate-timeline explorations, and I originally wrote it to help raise money for the George Alec Effinger Medical Fund.  I'm very pleased that it can now do some more good.