Superstars 2015 Audios Now Available—as well as the whole shebang!
For those of you who couldn't attend the Superstars Writing Seminar in person, you can now listen to all the lectures and workshops, and experience the seminar vicariously. The complete set of 20 lectures over the three-day workshop is now available in MP3 files for $350. You won't get the networking and the connections from the seminar, but you will get the knowledge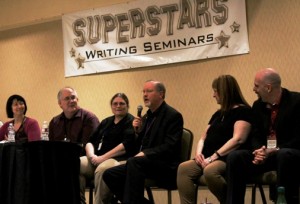 The Superstars Writing Seminars are one of the most influential and motivating experiences for up-and-coming writers to learn about the business side of writing and network with incredible guest instructors.  Over the last six years, partners Kevin J. Anderson, David Farland, Eric Flint, Rebecca Moesta, James A. Owen, and Brandon Sanderson have been joined by some of the biggest names in publishing including Sherrilyn Kenyon, Jody Lynn Nye, Kristine Kathryn Rusch, Dean Wesley Smith, Todd McCaffrey, Diana Gill, Jim Minz, and Toni Weisskopf.  The insights and information given through Superstars over the years is priceless.

But wait…not completely priceless, because you can get the audio versions of ALL SIX YEARS of Superstars as downloadable MP3s.  From understanding contracts to embracing new applications for audience building and everything in between, these workshops distill decades of publishing experience for up and coming writers.  Since the beginning, Superstars Writing Seminars have recorded every single workshop session and panel discussion and made those available for purchase for alumni from each year.  For the first time, we're offering a complete set of all six years' worth of workshops and discussions for one package price of $500.
To take advantage of this unique opportunity, order from the Superstars website.
NOTE: Early Bird rates for Superstars 2016 go up on October 1, so don't delay. Instructors include Jim Butcher, David Farland, Ann Sowards (Penguin/Putnam), Mark Leslie Lefebvre (Kobo), Eric Flint, Kevin J. Anderson, Rebecca Moesta, James Artimus Owen, Jody Lynn Nye, and Todd McCaffrey.