Testimonials from Superstars Writing Seminar

After two very successful Superstars Writing Seminars (Pasadena in 2010 and Salt Lake City in 2011), we are now planning the next seminar, in Las Vegas, April 30–May 2, 2012 at the Golden Nugget Hotel. Special Early Bird pricing is now in effect—$699 for new attendees, $599 for students, $399 alumni—but prices go up $100 on May 1. For full details on the curriculum of this intensive, no-nonsense business-of-writing course taught by five international bestselling authors, see the Superstars Writing Seminars Website.
Below, we've posted what the former attendees have to say about the experience.  (And thanks to Nancy Greene for the photos!)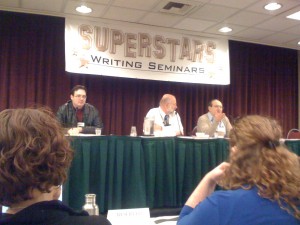 Brandon Sanderson, David Farland, Eric Flint
"The Superstars Writing Seminar is a really hardcore workshop about the business of writing. I wish I had taken it sooner."—Mary Robinette Kowal
"Having won Writers of the Future and gone on to sell stories to professional markets like Analog Science Fiction and Fact, I felt what I needed most was a symposium focused on business and career management. I needed hard data on the realities of selling novels in New York, the nature and content of novel contracts, royalty statements, and how to get my foot in the door. Superstars spent many hours covering all of these topics, and many more—all pertinent to my next phase in professional writing, and all greatly appreciated."—Brad R. Torgersen
"Worth every cent. You can't get this knowledge anywhere else. Highly recommended for anyone who is dead serious about getting published."—T. Alan Horne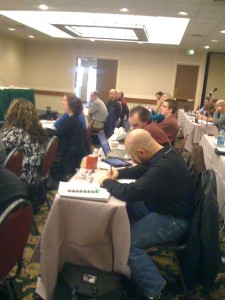 "The advice I received from Superstars Writing Seminars will enable me to live my dream of becoming an author if I follow it. But most important of all, they have given me hope, which is perhaps the greatest gift of all."—Ian Carmichael
"Anyone who loves to write, and is considering being a published author, needs to attend this seminar. It is invaluable. It teaches not only how to avoid the mistakes and pitfalls that new or aspiring authors can make, but also how to overcome the odds of a difficult market and succeed."—Melissa Douthit
"Absolutely amazing! It gave me insight into the business of writing that I never even suspected before."—Gama Martinez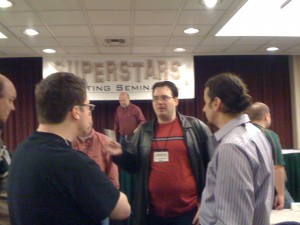 Brandon Sanderson talks with students
"If you're serious about being a Sci-Fi/Fantasy author, this seminar is where you'll learn the business of being a Sci-Fi/Fantasy author. I love writing, but Superstars is where I learned the business, learned it from the authors I've loved reading for years! Now I feel I understand what it'll mean to be part of this profession."—Barry Nove
"The personal information provided by the authors that are actually working in the trenches of the business, was very enlightening and cleared away several erroneous pre-conceived ideas about manuscript submissions. Also, I found the information about royalties payments and contract provisions invaluable."—James E. Richey
"I have learned invaluable lessons about the business of being an author. The type of things no one else tells you. This is a tough business and they tell you that, but they also tell you how you can succeed if you are persistent and work at it. Any one who is serious about being an author needs this information and this seminar. On top of all that, the networking and friendships made with both the presenters and attendees are a tremendous benefit."—Clancy Metzger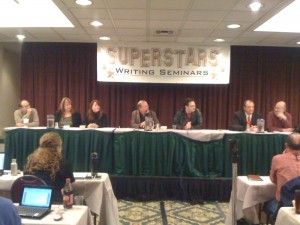 Superstars: Eric Flint, Rebecca Moesta, Sherrilyn Kenyon, Kevin J. Anderson,
Brandon Sanderson, Tracy Hickman, David Farland
"From being a wide-eyed optimist coming into Superstars, to actually being educated about what it means to be an author upon going out, I found Superstars Writing Seminars to be a wealth of useful and relevant information supplied by knowledgeable people. Now, I feel that I am ready for what is to come with my writing career."—C.J. Ebert
"The Superstars Seminar gave me a compass with a detailed map and instructions to help me find my own direction in the strange land of publishing."—Michelle Corsillo
"As a young writer looking for direction in what seems like an almost impossible industry to get into; Kevin, Rebecca, Brandon, Eric, and Dave have produced a beacon of light in an otherwise dark world. If you want to be a professional writer and not a hobbyist, then this is the place for you."—Stone Sanchez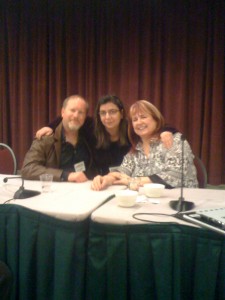 Kevin J. Anderson and Rebecca Moesta with attendee Nancy Greene
"When they say this seminar is about the business of writing, understand that you will learn about your legal rights, how to get an agent, and every other thing that you could want to know if you were much more informed. You will realize the extent of your ignorance."—Jacob Gibson
"The amount of information contained within this seminar was intense. For the value given, this is the best writing resource out there, bar none. Two thumbs up."—Colton Goodrich
"This seminar gave me the tools I need to further my publishing career. Each of the authors are amazing teachers and mentors. This was very valuable and exceptional. There was way more information than I could have expected."—Diane Winsor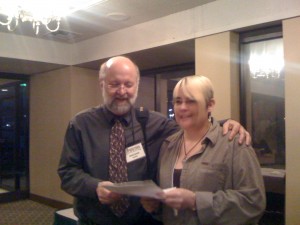 David Farland with attendee Clancy Metzger
"I walked away from the first day distraught and discouraged—it was a reality slap to the face. By the end of the third day, I was convinced I could be a published author, and I felt prepared. The Superstars Writing Seminars took the mystery of storytelling and turned it into a tangible and approachable road map."—Michael Metcalf
"I've been twice and still have much more to learn from these wonderful, informed people. Them and their advice is exactly what the floundering beginning/aspiring writer needs."— Tiffany Brazell
"I have gained a realistic view of the writing business. I'm encouraged by the genuinness of the authors and their willingness to share and invest in me. I have come out of this seminar with hope that I can be a successful writer and a viable way to get there."—Kristin Riggs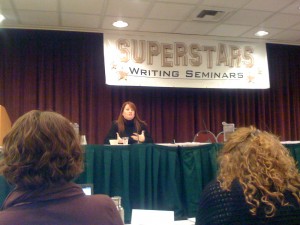 Sherrilyn Kenyon
"Superstars Writing Seminars exceeded my expectations in every way! The face time with the authors was invaluable. You will learn that while there are no 'silver bullet' techniques to becoming a published author, there are a number of methods to improve the odds in your favor. In fact, attending this seminar is step one in that process, because it will get you MEETING PEOPLE, both people at your level and, of course, the wildly successful author-instructors. If you are currently unpublished, I guarantee you will learn at least one thing you are already doing wrong, Kevin J. Anderson and company have put together something truly special here, and I strongly advise you: if you are serious about writing to be published, this is well worth your time and money."—Greg Little
"The seminar is the finest business guidance available for a writer today."—Kevin H. Evans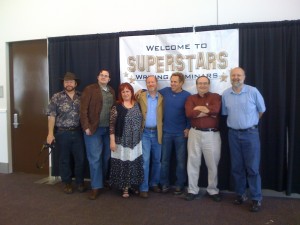 Pasadena Superstars: Steven L. Sears, Brandon Sanderson, Rebecca Moesta, Kevin J. Anderson, Marc Scott Zicree, Eric Flint, and David Farland
Remember, prices go up $100 on May 1, so don't delay. We hope to see you in Las Vegas in 2012.