THE TRINITY PARADOX and BLINDFOLD ebooks
We've just made two more of my novels available for Kindle, nook, Kobo, iPad, Sony e-reader, and other formats.  The Trinity Paradox, with Doug Beason, and Blindfold have been out of print and hard to find for some time. The Trinity Paradox also has an all-new afterword by Doug Beason.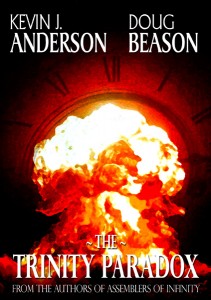 The Trinity Paradox—Activist Elizabeth Devane wished for an end to nuclear weapons. During a protest, the unthinkable happens: a flash of light and Elizabeth awakes to find herself alone in a desolate desert arroyo almost fifty years in the past: 1944, Los Alamos, New Mexico. The Manhattan Project. Could she—should she—attempt the greatest sabotage in history?
Click here for
Kindle
Nook
Other e-reader formats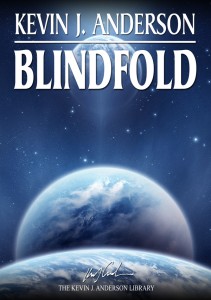 Blindfold—Falsely accused of murder on the colony world of Atlas, Troy Boren trusts the young Truthsayer Kalliana . . . until, impossibly, she convicts him. Kalliana doesn't realize her power is fading, but soon the evidence becomes impossible to ignore. The Truthsayer drug Veritas has been diluted and someone in the colony is selling smuggled telepathy. Justice isn't blind — it's been blinded! From an immortal's orbital prison to the buried secrets of a regal fortress, Kalliana and Troy seek the conspiracy that threatens to destroy their world from within. For without truth and justice, Atlas will certainly fall…
Click here for
Kindle
Nook
Other e-reader formats
Also, don't forget that for a limited time we're making available a FREE pdf of two unpublished chapters that were cut from the finished novel of HELLHOLE.  Download for free at www.wordfire.com.