When the RPG fights back! GAMEARTH
My second published novel Gamearth is a fast-paced and fun story that takes place inside and out of a Dungeons & Dragons style role-playing game, where a group of players have grown tired of their game and decide to shut it down…which is tantamount to a declaration of war against the characters inside the game—who then need to go on a quest to save their own world from falling apart (complete with dragons, magic swords, ogres…just what you'd expect).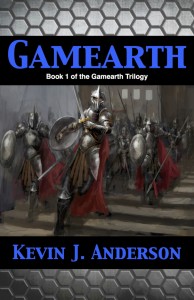 The entire Gamearth trilogy is available in print and eBook format, as well as a large omnibus edition from WordFire Press.
When I was in college, I used to play D&D every Sunday night with a group of friends, including award-winning SF author Kristine Kathryn Rusch (of course, at the time, neither of us were published authors!). Kris used a lot of those gaming experiences in her first novel, The White Mists of Power, just as I used them in Gamearth.
Gamearth is also one of 13 Fantasy titles that are currently featured in the Truly Epic Fantasy Storybundle at http://storybundle.com. You can get ALL those books for $15…but it runs for only one more week.